WHICH DOOR MATERIAL IS RIGHT FOR YOUR NEW KITCHEN?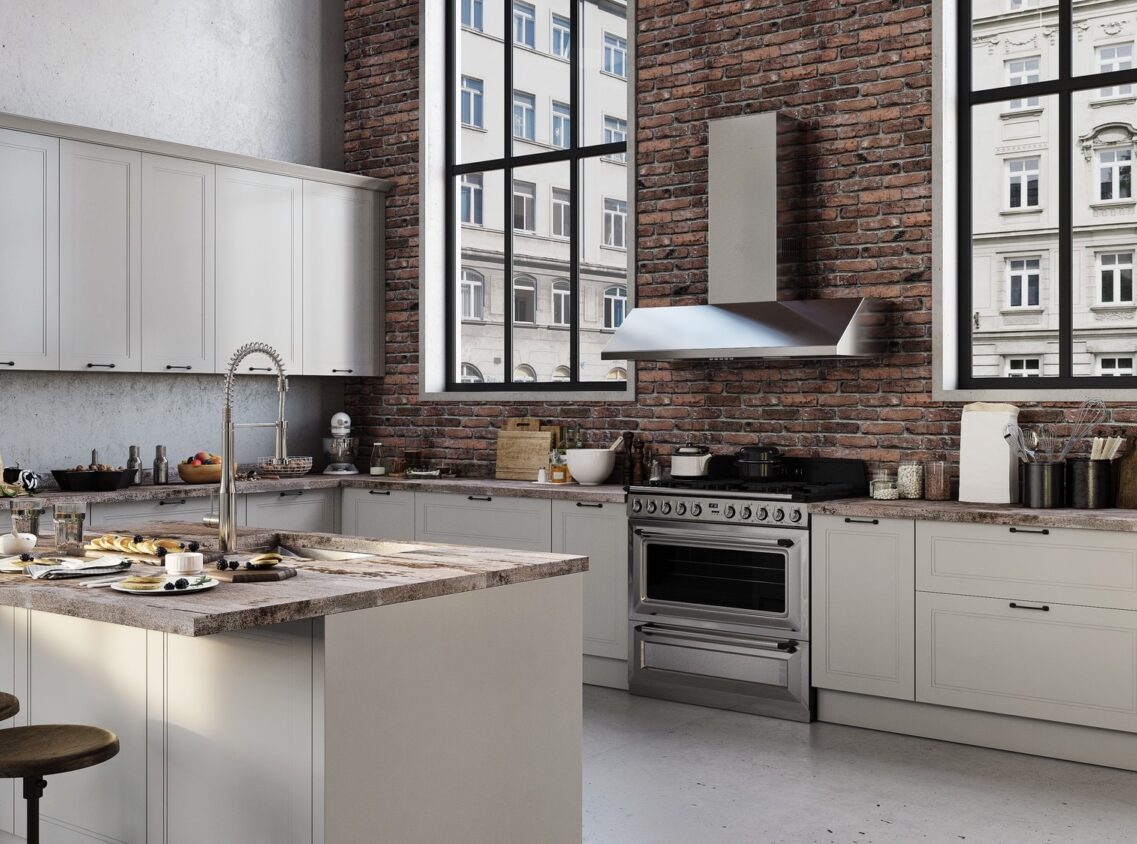 There are 37 kitchen front models on display in our showroom. With that we can make sure that you find the perfect model for you.
Clean-lined, minimalist look. Of course, the doors can also be without handles, ie without handles, in which case the door opens with a small push.
The right choice
In the range of kitchen furniture doors, there are plenty of options in terms of models, materials and colors. When choosing the material of the door, it is good to take into account how hard the door is. In families with children, there are often different requirements for furniture than in a two-adult home. The colors give the look and feel of space in a small space, for example, when a light shade is chosen for the door surface. The chosen door also defines the style of the kitchen and should match the rest of the home decor.

The door material and model are often chosen at an early stage of design. If you feel that your own taste is yet to be seen, you should ask a kitchen expert for help. When you start negotiations with a furniture supplier with the widest possible range of doors, you can make sure that you have the most comprehensive view of the options available on the market in one visit.
Health
The available budget also guides the choice of kitchen front material. The manufacture of wooden doors is handcrafted and thus, of course, affects the price. Laminate and melamine doors have the possibility to carry out kitchen renovations more cheaply. If you want strong colors for your kitchen, an MDF door is a good option.
In families with allergies, special attention is often paid to indoor air issues. Indoor air purity is defined at three different levels and E1 is the best of the ratings. E1 is a standard of safety recognized in Europe. This standard signals the maximum levels of formaldehyde that each piece of flooring can contain. E1 states that the product is clean, has no odor nuisance and does not cause irritation. So the E1 rating will help you make choices. When you want to make sure that the indoor air conditions are in order after the kitchen renovation, ask the furniture supplier which doors have received an E1 rating. Demsas's products have already been tested and each of them belongs to the E1 category.
CARRIER MATERIAL OF KITCHEN FRONTS
Kitchen fronts are made up of two elements:
carrier material

decorative layer
The carrier material has a decisive influence on the stability and the surface quality.
The following materials serve as the base or support material for kitchen fronts:
chipboard

MDF panels

HPL panels
These materials are then coated for the final look.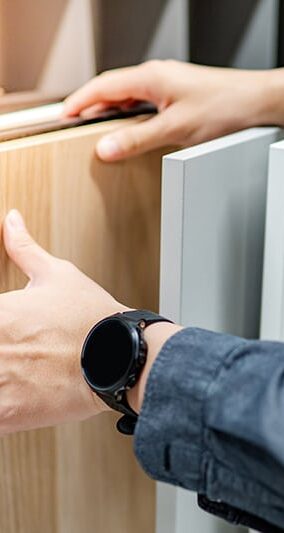 Chipboard
Chipboard is the most commonly used material in the kitchen furniture industry and is the result of using leftovers from wood chips that are pressed in several layers with synthetic resin glue. The advantage: Hardly any waste products are left over and the natural resource wood is conserved. The wooden material is not as stable as a solid wooden panel, but scores with a low price and low weight .
GOOD TO KNOW: All chipboard with the E1 seal of quality is well below the permitted limit value of 0.1 ppm (ml/m³) and is therefore completely harmless for healthy living.
MDF panels
MDF boards are also popular as a support material for kitchen furniture. The so-called medium-density fibreboards are extremely stable and resistant to bending . Under steam pressure, wood fibers are heated, defibrated, ground, dried and pressed into single-layer boards of various thicknesses. MDF boards are easy to work with, but a lot more expensive than chipboard.
GOOD TO KNOW: With their even and smooth surface, MDF boards are particularly suitable for lacquered kitchen fronts.
HPL panels (High Pressure Laminate)
These are abrasion-resistant, moisture-resistant, food-safe, heat-resistant up to 180°C and anti-static laminated panels . The thickness of the plate is between 0.8 and 1.6 mm . The HPL panels can be manufactured in different colors and structures. Several cellulose webs are saturated with hardenable (duroplastic) synthetic resins and layered evenly. A printed or colored decorative layer ensures the desired design.

DECORATIVE COVERING OF KITCHEN FRONTS
The individual panels, i.e. the selected basic material for the kitchen front, are coated with a wide variety of materials, the decor. The material used determines the durability and price of the respective kitchen front.
You can choose between the following decors for kitchen fronts:
plastic

paint

acrylic

glass

wood

stainless steel

linoleum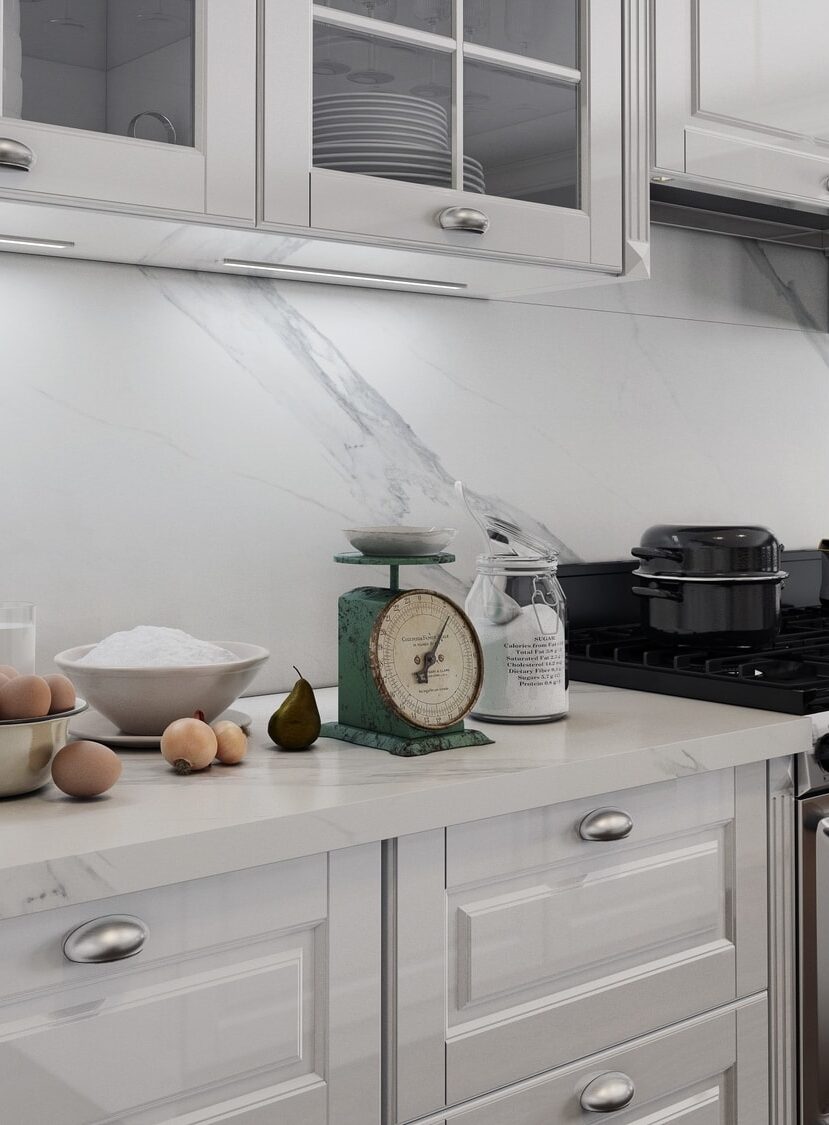 Plastic fronts
Plastic kitchen front are made of thermoplastic (elastic) and duroplastic (not deformable) coatings, laminates or layers are applied to the carrier material. Different colors, patterns or surface structures are possible.
A quality feature of plastic fronts is the so-called zero joint . This means that the edge has a uniform, seamless look. To do this, the edges of the kitchen front are either laser-welded to the carrier plate or fused using hot air or infrared technology and not just glued. Dirt cannot accumulate here as quickly and water cannot penetrate.
TIP: Plastic fronts are inexpensive and therefore also suitable for entry-level kitchens.
There are also differences in the plastic fronts:
Foil/PET

wrapped kitchen fronts

melamine resin kitchen fronts

laminate kitchen fronts

Lacquer laminate kitchen fronts
Foil/PET wrapped kitchen fronts
The foil fronts covered with plastic foil are very popular with kitchen buyers for price reasons. However, this is not the only reason, because they offer the possibility of imitating real materials such as wood, lacquer or even stone.
Advantages
Large variety of colors and patterns
Easy-care
Relatively cheap
Disadvantages
No natural material
The film may detach over time
Sensitive edges (slight damage quickly visible)
Not particularly scratch resistant
Not heat resistant
Not acid resistant
Laminate kitchen fronts
Laminate fronts (also called laminate fronts) have a layer of phenolic resin, decorative paper and a transparent top layer.
Advantages
Extremely resistant
Very durable
Easy-care
Seamless deformation of edges possible
Disadvantages
No natural material
Due to the hardness of the material, not all shapes are possible
Melamine resin kitchen fronts
Melamine resin fronts are plastic fronts with a melamine resin coating. To do this, decorative papers soaked in melamine resin are pressed onto the carrier board with high pressure.
Advantages
Large variety of decors
resilient
Easy-care
High abrasion resistance
chemical resistant
Scratch and shock resistant
Heat and acid resistant
Lightfast
Cheapest plastic fronts
Lacquer laminate kitchen fronts
When manufacturing lacquered laminate fronts, lacquer is applied to a layer of plastic, which is then pressed onto an MDF board.
Disadvantages
Less shiny than real paint
Less scratch resistant
Lacquered/painted kitchen fronts: matt or glossy
For the lacquered fronts, which are also very popular, the carrier material is lacquered with two-component lacquer, which consists of a base lacquer and a hardening lacquer.
With lacquered fronts, kitchens can be realized in almost any colour. Depending on whether you want matt or high-gloss kitchen fronts or a micro-lacquer kitchen, different processes are used for the lacquering and the subsequent sanding and polishing work.
Lacquered fronts are popular for their brilliant shine.
Advantages
Matt or glossy selectable
Fingerprints are less visible on a matte surface
Durable
Insensitive to cleaning agents
Valuable look
Disadvantages
More sensitive to scratches than foil or laminate fronts
Annoying fingerprints on glossy surfaces
Greater cleaning effort for glossy lacquered fronts than for matt ones
Priced in the middle to higher segment
Acrylic fronts
Acrylic fronts are sometimes made from solid acrylic panels or from coated MDF carrier materials, which have properties similar to wood and can be easily processed. Like lacquer and glass, acrylic fronts are also available in both high gloss and matt.
GOOD TO KNOW: If you want a kitchen with glossy kitchen fronts, acrylic fronts are a cheaper alternative to high-gloss lacquer fronts and glass fronts.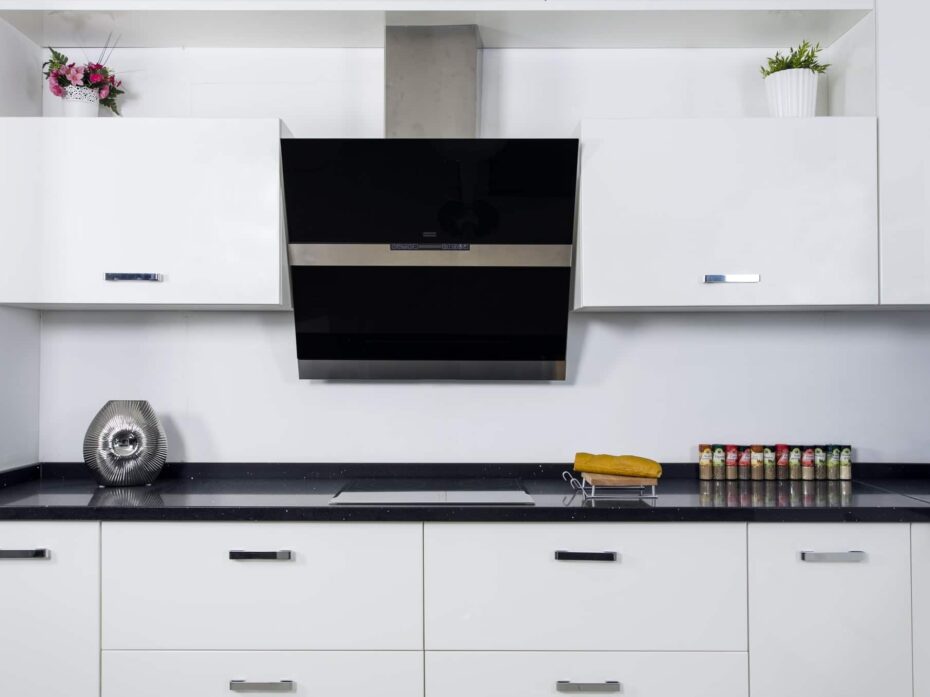 Advantages
Many design variants
High gloss level
Sheen depth
Scratch resistant after sealing
High heat resistance
Lightfast
Lighter, easier to care for and cheaper than glass
Disadvantages
Not acid resistant
Sensitive to cleaning agents containing alcohol
Charges up electrostatically
Prone to dirt
Glass fronts
In the case of glass fronts , the single- pane safety glass (ESG) used for safety reasons is applied frameless to a carrier material. Higher quality manufacturers also add acrylic or aluminum for edge reinforcement.
Glass fronts are characterized by a high-quality look. The color palette is large. Only glass fronts can compete with lacquer fronts in terms of gloss. However, fingerprints are visible more quickly than with other materials. In addition, glass fronts are quite expensive.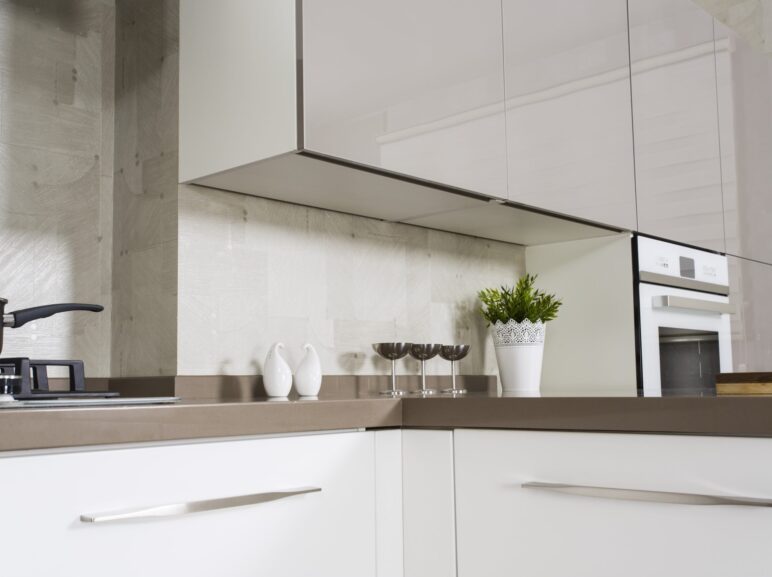 Kitchen furniture with glass fronts
Advantages
Painting in all colors possible
Brilliant effect that is in no way inferior to a high-gloss front
High scratch resistance
Heat resistance
Disadvantages
Fingerprints visible
Risk of edge breakage
Expensive
Wooden fronts
Their cozy atmosphere and the desire for a natural material makes wooden kitchens so popular. Ecological reasons also play a role. With the wooden fronts, however, a clear distinction must be made between solid wood and real wood veneer .
TIP: Read the manufacturer's description to be sure that the wooden front is really made entirely of wood or has been veneered.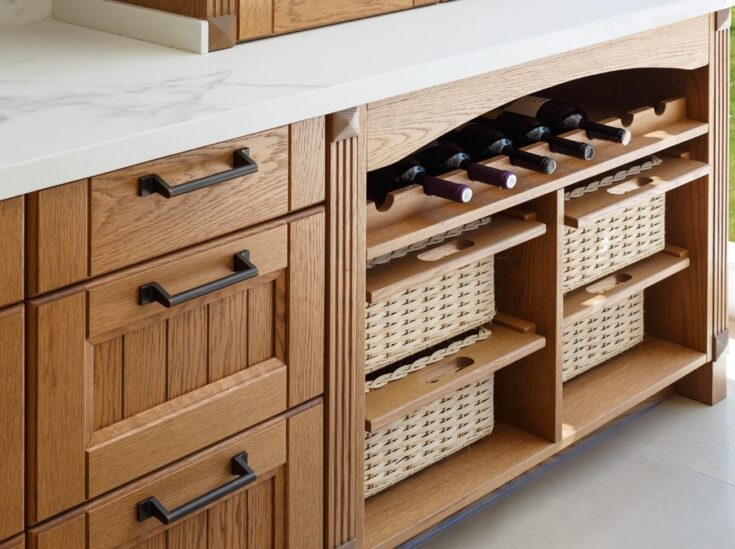 Wooden frames combined with veneered filling.
Solid wood fronts
Solid wood is the most natural front material . The kitchen front is made entirely of solid wood. Often only frames made of solid wood are offered, while the filling is veneered, i.e. glued to higher-quality chipboard or MDF boards with a thickness of around 1 mm.
Solid wood fronts are in the upper price segment and are significantly more expensive than real wood fronts.
Advantages
Natural material
Healthy indoor climate
Durable
Robust
Fingerprints not visible
Processing possible
Disadvantages
Not scratch resistant
Sensitive to water
Expensive to look after – must be re-oiled
Expensive
Real wood fronts or veneered kitchen fronts
In the real wood kitchen , only the fronts are made of wood. These veneered kitchen fronts are referred to as real wood fronts. They can be glazed, stained, whitewashed, brushed, sandblasted, patinated and also adapted to current color trends with varnishes/colored varnishes. The surfaces are then sealed with an invisible protective layer of varnish.
Advantages
Cheaper than solid wood fronts
Fingerprints not visible
Disadvantages
Not scratch resistant
Sensitive to water, may swell
Reference: kuechen-atlas.de
840 total views, 1 views today

English (UK)
Powered by TranslatePress
»