CoMoon GmbH is an exclusive distributor of Demsaş Mutfak & Banyo,which is one of the best-known Turkish manufacturers of kitchen and bathroom furniture with more than 45 years of experience.
Damsas has been in existence since 1975 and attaches great importance to the quality of its products and customer satisfaction.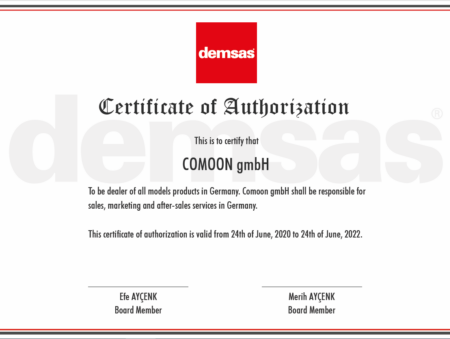 The Demsas product range is diverse enough to cater to a wide variety of customer requirements. With around 35 kitchen front models, some of which have names from Greek mythology such as Venus, Artemis or Adonis, rural, classic and modern kitchens can be created. 
In Germany, Demsas kitchen furniture can be obtained exclusively from CoMoon GmbH .
CoMoon GmbH is a Hamburg based company founded according to the German law and offers its services in Germany.
We offer modular kitchen and bathroom furniture suitable for the needs of customers with the high quality products. We produce projects instantly with our experienced architect staff and developed computer programs and make personal and corporate productions with computer-aided state-of-the-art machines.
Our mission is to provide people with furniture that suits their wishes and needs, providing comfort in everyday life. We give people comfort and confidence by making their lives more enjoyable, fulfilling their goals and dreams. We are building one of the best service companies in the world. Our success is based on the professionalism and product quality.
CoMoon GmbH
Geschäftsführer: Chingiz Alishov, Eyvaz Alishov
Amtsgericht Pinneberg, HRB 14914 PI
Ust-IdNr.: DE332741721
StNr.: 18-294-33519
Bank details:
Deutsche Bank IBAN: DE22 2007 0024 0089 6696 00
SWIFT/BIC: DEUTDEDBHAM
solarisBank AG IBAN: DE76 1101 0100 2306 6861 40
SWIFT/BIC: SOBKDEBBXXX
664 total views, 1 views today

English (UK)
Powered by TranslatePress
»